Two things about
Teresa of Jesus
 are fascinating : her
human personality 
and
her experience of God
.
Most of what we know of her we have learnt from her own account, in particular in the Book of Her Life and the Interior Castle. Other information has come to us from her contemporaries who wrote about her, impressed by her greatness of soul and feeling the impact of her human and spiritual charism.
She was Teresa of Jesus : Christ became her only love. That's the secret of Teresian silent prayer and of her original commitment to the service of the Church.
More than four centuries later, Teresa remains close to us with her lively, overflowing and spontaneous personality, the enemy of a narrow constraint which could disturb God's action and prevent his love from blossoming.
Many men and women have found in her writings a source of light and life.
Oh, who will cry out for You, to tell everyone how faithful You are to Your friends !
(Life, 25.17, trans. Kavanaugh and Rodriguez)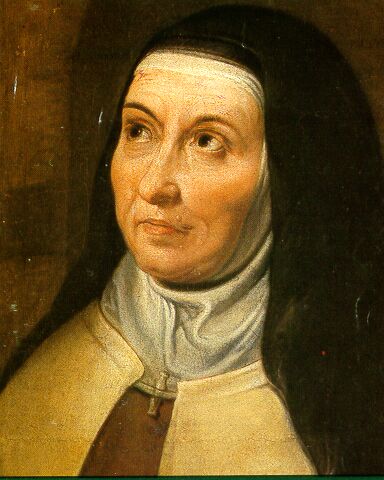 Experience of God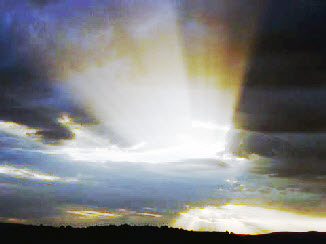 Teresa is aware that this is one of the charisms that the Lord has given her for the Church. « Perhaps I'm saying nothing, but what I'm about to say I've seen through experience », she says often (Life, 22.5).
Experience is a way of knowing God and spiritual reality that goes further than simple conceptual knowledge :
« [It] develops in the Church with the help of the Holy Spirit … through the contemplation and study made by believers, who treasure these things in their hearts … through a penetrating understanding of the spiritual realities which they experience. »

Dei Verbum nº 8
Indeed, the experience of the living God shines out from the whole of St Teresa's work. In her life, God is somebody ! Her witness makes us want to know him, meet him and "see" him. In her company, we sense that friendship with God is a marvel of simplicity and depth, and that it is possible, following in her wake, to have the same experience, even without extraordinary graces.
Greatness of soul
Everything about St Teresa is great and is aimed at greatness. At the point of departure are great desires … This is a fundamental attitude that leads her further and further in her enthusiasm to 'see God' and know him as he is. It's a desire for the absolute which ends in her giving herself completely into the hands of the Lord. This desire for the absolute and for fullness resembles that of many young people today.
her work exalts the power of God in the face of a world that was already beginning to exalt man alone
But at the same time, this magnanimous nature belongs to someone who is very humble, because she is aware of her limits and weaknesses. Here she shows the antidote to pride, which can wreck the road to God. Relying only on him, Teresa faced the world without half measures or compromise. What difficulties didn't she overcome by her unshakeable faith ! Completely surrendered to the cause of God and the Church, she realized herself to the limit ; her work exalts the power of God in the face of a world that was already beginning to exalt man alone.
The woman
The woman of today, who aspires to first place in every area of life, can learn a lot from Teresa, this woman without equal who dominated the Spanish Golden Age. She was capable of getting the great men of her time to listen to her. She launched a daring reform and defended it against powerful enemies in an overtly male and clerical context.
Everyone recognizes her intellectual vigour and tenacity in seeking the truth. But above all, people are won over by what is more especially feminine in her : a power for loving which works wonders, multiplied tenfold by grace. St Teresa is a mother, a mother by her 'power of divine education'. She gives light with and in love, a royal love, and in this love lies her genius. We can gain a lot from the shining witness of her fruitfulness.
Christ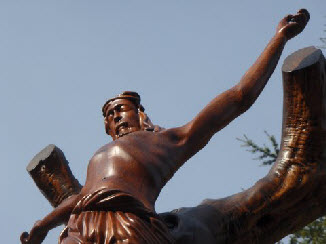 One of the most important aspects of Teresa's teaching and experience is the place held by Jesus Christ. From the moment when he breaks into her life (cf. Life, ch. 9), he is the "living book" for her intelligence : "the Lord showed so much love for me by teaching me in many ways … His Majesty had become the true book in which I saw the truths" (Life, 26.5, trans. Kavanaugh and Rodriguez). He would be an "example" for her life, a "master and companion" in silent prayer. He would be the "beauty" capable of becoming a channel for Teresa's emotions and unleashing all her power for loving, the "true friend" who gives himself without holding back (Life, 22.6, trans. Kavanaugh and Rodriguez), the "sovereign Majesty" who brings about everything he says.
Like St Paul, who asked : "Can anything cut us off from the love of Christ ?" (Romans 8.35, NJB), Teresa lived in Christ from that moment on and heard herself say : "No one will ever be able to separate you from me."
To the end, she looked on the Humanity of Christ. Any teaching which moves away from him or doesn't lead to him is, in Teresa's opinion, false teaching and a suspect road. It is one of her claims to fame that she established with vigour this truth in the context of her time, which tended to be against it. This point constitutes a wonderful anticipation of the affirmations of Vatican II in the Dogmatic Constitution on the Church.
Teresian silent prayer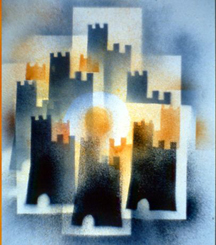 The habitual 'space' of Teresa's experience of God was silent prayer. In it she was given an amazing knowledge of God, of man and of the relationship established between them. She sees man as a Castle whose treasure is on the inside : the presence in him of God, his Creator, Master and King. And the key to open the castle door and join the Guest within is silent prayer.
What a great master of silent prayer Teresa is ! Her prayer is life, not speculation. 'It's not to think much, but to love much.' It's a knowledge based on experience, a knowledge of love. This silent prayer is really the backbone of all her teaching : a "sharing between friends" (Life, 8.5, trans. Kavanaugh and Rodriguez). That's the great truth that she reveals.
 Au cadran de l'histoire, c'est l'heure de l'oraison thérésienne. (Pope Paul VI)
L'Eglise
An essential characteristic of Teresian silent prayer is its apostolic nature. Far from encouraging selfishness, intimacy with God orients the person praying to other people and turns him into an apostle par excellence, embracing God and his brothers and sisters in the same love.
 The world is all in flames … This is not the time to be discussing with God matters that have little importance … Have pity on so many souls that are being lost, and help Your Church … Give light now to these darknesses … And when your prayers, desires, disciplines, and fasts are not directed toward obtaining these thing I mentioned, reflect on how you are not accomplishing or fulfilling the purpose for which the Lord brought you here together. » (Way of Perfection, 1.5, 3.9, 10)
Teresa understood how much the world needs contemplative apostles. And not only in monasteries ; contemplation is necessary to people of action just as the Holy Spirit's hold was necessary to the apostles before they went on mission. "But why have I said this ? So that you understand, my Sisters, that what we must ask God is that … God will make the captains of this castle or city, who are the preachers and theologians, very advanced in the way of the Lord … who … have labored so as now to help the Lord" (Way of Perfection, 3.2).
In our own context, where mission has become a priority for all Christians, John Paul II and Benedict XVI have emphasized this need for contemplative apostles at the beginning of the third millennium :
"The missionary must be a "contemplative in action." He finds answers to problems in the light of God's word and in personal and community prayer. My contact with representatives of the non-Christian spiritual traditions, particularly those of Asia, has confirmed me in the view that the future of mission depends to a great extent on contemplation. Unless the missionary is a contemplative he cannot proclaim Christ in a credible way. He is a witness to the experience of God' (Redemptoris missio, 91).